The last two months have been a challenging time for insurance companies, with many confronting issues that impact both their business operations and investment portfolios. Below are some of the questions we're discussing with clients and prospects and our views for how insurers can preserve the short and long-term health of their balance sheets.
What implications can corporate downgrades have on my portfolio?
Since the global financial crisis, there has been record issuance in BBB-rated bonds, which now comprise roughly 50% of the U.S. Bloomberg Barclays Corporate Index. This migration to lower quality within the benchmark, coupled with depressed rates and the search for yield, has led many insurers to increase their exposure to BBB-rated credits within fixed income portfolios portfolios (see chart A).
CHART A
BBB Bonds as a % of Invested Assets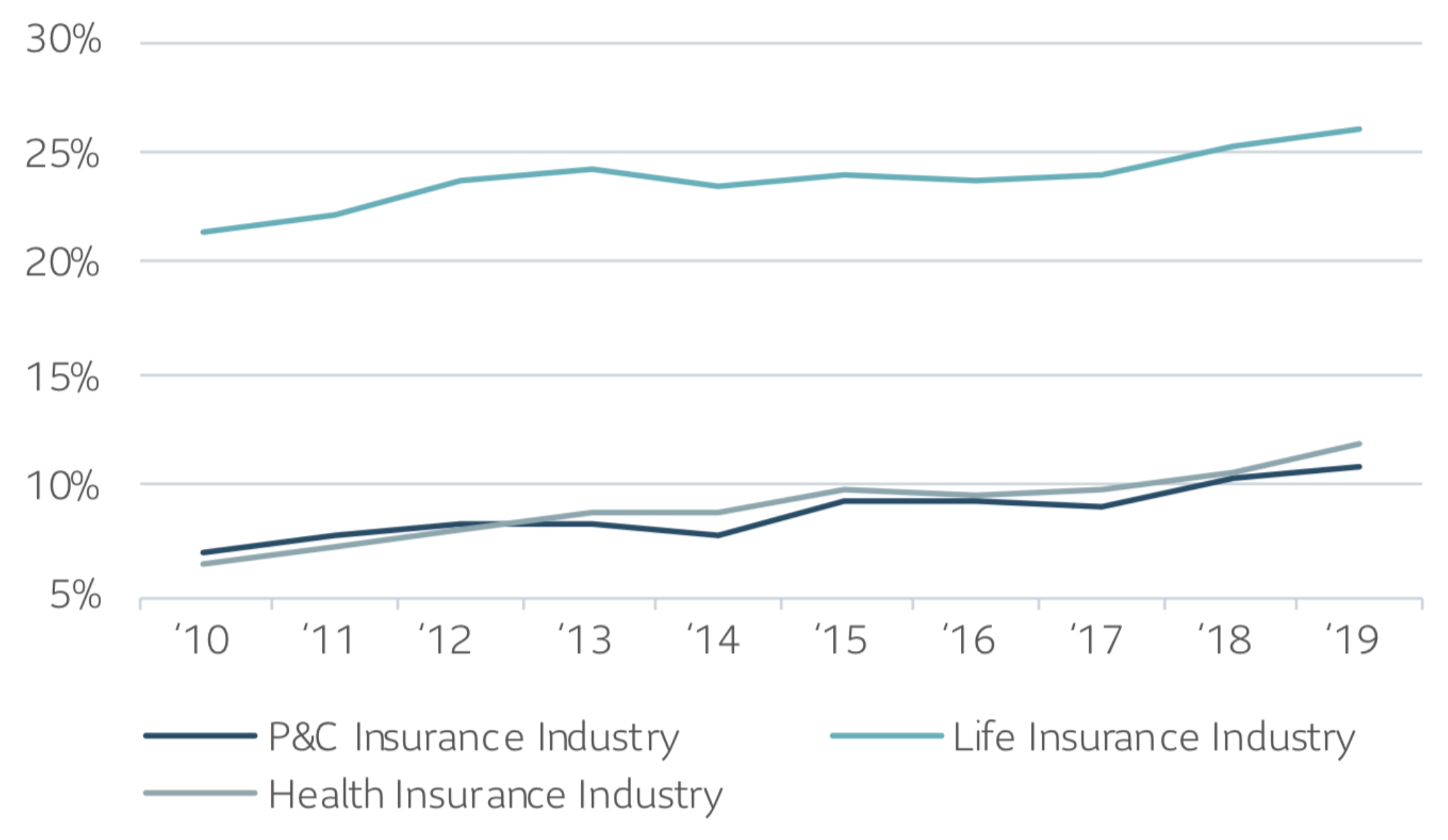 Data source: S&P Market Intelligence
There are a few reasons we are concerned about the growing presence of BBB in the current market environment. There is more leverage today among BBB issuers than there was five years ago (the median leverage is currently 2.6x versus 2.2x in 2015) and economic slowdowns can increase the risk of downgrades and defaults. In fact, the BBB downgrade/upgrade ratio has surpassed 2009 levels (see chart B). Fallen angels, or securities downgraded from investment-grade to high yield, have historically experienced significant price declines and volatility during economic downturns and this can have negative implications for insurers.
CHART B
BBB Downgrade/Upgrade Ratio Above '09 Levels
Downgrade/Upgrade Ratio by Amount Outstanding (x)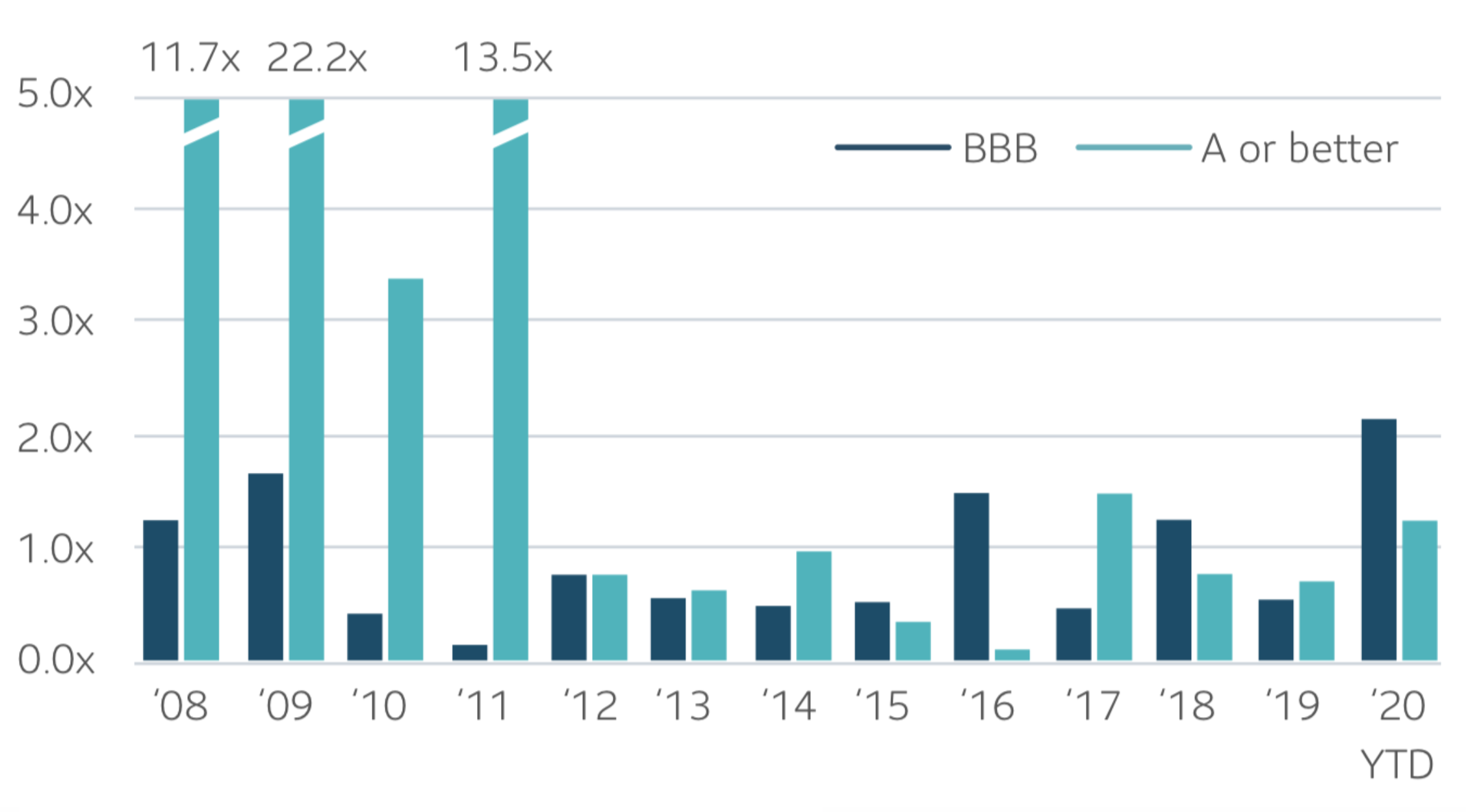 Data source: Bloomberg
For Property and Casualty (P&C) and Health insurers, fallen angels need to be reported as the lesser of amortized cost or fair value in statutory filings, which can force repricing of securities. Mark-to-market repricing and equity market volatility can lead to higher than anticipated surplus losses in a stress scenario. Additionally, insurers with Investment Policy Statement's that require liquidation of sub-investment grade bonds could see forced sales and impairments at a time when the market lacks liquidity.
Key takeaway: In conversations with clients, we suggest that they closely monitor BBB allocations in their portfolios. Due to the increased size of the BBB market relative to the corporate credit universe and the yield requirements of insurance companies, it is difficult to completely avoid this segment of the market. Given the current market conditions and generally liquid nature of their balance sheets, insurance companies should consider redeploying a portion of their BBB allocation from public securities to investment grade private credit. This shift would swap some level of credit risk for liquidity risk while picking up additional yield, resulting in a better risk-adjusted portfolio.
How should we be thinking about our allocation to private assets?
We currently view investment grade private assets favorably when compared to the risks facing BBB-rated issuers in the public markets.
Investment-grade private credit has proven to be a resilient asset class during economic downturns, providing diversification and excess returns relative to similarly-rated public corporate bonds. Financial covenants and security in the form of collateral that typically includes critical assets of the issuer serve as lender protections during stressed scenarios, while small lender groups help lead to faster recoveries in the event of a default.
Key takeaway: We continue to see attractive premiums for investors. Information advantage, robust underwriting, structure expertise and disciplined pricing are all key to seizing the opportunities presented in market dislocations and periods of price discovery.
How should we be thinking about our allocation to real estate equity?
We've been receiving many questions about how COVID-19 might impact the future of real estate markets, particularly if work-from-home becomes the new normal and reduces the need for office and retail space.
Within the real estate market, we have seen a compelling pocket of opportunity in the core-plus segment. Core-plus strategies haven't gotten the same level of attention from investors as traditional core or value add and opportunistic strategies (since 2012, we have seen value-add funds hit record fundraising levels of roughly $50 billion per year, versus $3.9 billion in the core-plus sector). The limited amount of capital chasing in this space, along with the unique technical aspects of the core-plus segment, present a compelling risk adjusted return opportunity for investors.
Key takeaway: Investors should look for real estate equity opportunities that are defined by the following characteristics:
Middle market sized transactions in gateway cities
Focus on primary assets classes (industrial, multi-family, office and retail)
Within demand and demographic driven sectors.
We believe this distinct segment of the market currently presents compelling opportunities for insurance company portfolios to increase return, yield and diversification relative to other less liquid opportunities.
The government has been providing meaningful stimulus to support the economy – are there opportunities for insurance companies?
On March 23, 2020, in an effort to re-energize the credit markets, the Federal Reserve and Treasury department jointly established the Term Asset-Backed Securities Loan Facility (TALF). TALF is designed to encourage private investments in asset backed securities (ABS) by providing federal government loans to investors through the New York Federal Reserve.
The TALF was previously launched in 2009 during the last financial crisis to help support the flow of credit to consumers and businesses. The program was successful in helping capital markets return to normal. Investors in the TALF 2009 program experienced strong returns, with early participants typically seeing the greatest benefit, as initially high spreads tightened in line with the roll-out of the program.
Key takeaway: We believe that the TALF 2020 program provides a similar opportunity for investors to achieve attractive risk adjusted investment returns. However, investors will need to move quickly. The window to access this program is short with an expected launch date in late May or early June and a scheduled end date of September 30, 2020.
What actions are regulators and rating agencies taking?
Life, P&C and Health insurers each face unique circumstances and may be subject to rating agency and regulator developments. AM Best recently released a statement emphasizing the importance of stress testing to gauge the impact of the pandemic on risk-adjusted capital, investment portfolios, reserve adequacy and other potential risks. They emphasized that access to liquidity and the laddering and maturity structure of debt securities in the capital structure of insurance companies will be areas of focus.
As we continue to stress test client portfolios, we are modelling a range of asset and operational risk variables to better understand potential liquidity needs. Is the client experiencing reduced premiums, implementing forgiveness programs or being mandated to reduce premiums by regulators (as in California)? Is the client mandated to provide coverage that would typically be excluded? The primary modelling variable on everyone's mind seems to be: how long does the pandemic and subsequent shut-down last?
Key takeaway: The National Association of Insurance Commissioners' (NAIC) Statutory Accounting Principles Working Group is finalizing proposals to provide relief for insurers for an interim period in an effort to protect balance sheets during the crisis. State regulators have introduced a variety of measures designed to benefit policyholders, such as mandating extensions of grace periods for overdue premiums, which could potentially result in unfavorable accounting treatments under existing statutory requirements. Once finalized, we expect further action by NAIC and state regulators and are closely monitoring developments.
What are additional sources of liquidity?
We continue to work with clients to help them access the benefits the Federal Home Loan Bank System (FLHB). The FHLB provides members with low-cost funding ("advances") that insurers can use for daily and contingent liquidity, including back-up or emergency liquidity. Advances are secured by pledging mortgage loans or other eligible collateral held in insurers' portfolios and often come with terms that are more favorable than those available in the broader market.
Key takeaway: Beyond meeting short-term liquidity needs, FHLB funding is also an effective tool for enhancing portfolio yields through spread management programs. By investing the low-cost advances from the FHLB into higher yielding assets (including investment-grade private credit, commercial mortgage loans or public credit), insurers can generate a higher rate of return on capital. We have experience implementing spread management programs for clients and believe the current market presents an opportunity for insurers to benefit from a risk-controlled approach that invests in both public and private credit.
As we continue to navigate through the current market uncertainty, we remain focused on helping insurers effectively manage risk, stay abreast of new developments and take advantage of opportunities arising from market dislocation and government programs. We look forward to discussing these and any additional questions that are important to your insurance enterprise.
This document is intended for institutional investors only. The information in this document is not intended to provide specific financial, tax, investment, insurance, legal or accounting advice and should not be relied upon and does not constitute a specific offer to buy and/or sell securities, insurance or investment services.
SLC Management is the brand name for the institutional asset management business of Sun Life Financial Inc. ("Sun Life") under which Sun Life Capital Management (U.S.) LLC in the United States, and Sun Life Capital Management (Canada) Inc. in Canada operate. Sun Life Capital Management (Canada) Inc. is a Canadian registered portfolio manager, investment fund manager, exempt market dealer and in Ontario, a commodity trading manager. Sun Life Capital Management (U.S.) LLC is registered with the U.S. Securities and Exchange Commission as an investment adviser and is also a Commodity Trading Advisor and Commodity Pool Operator registered with the Commodity Futures Trading Commission under the Commodity Exchange Act and Members of the National Futures Association.
Investment grade credit ratings of our private placements portfolio are based on a proprietary, internal credit rating methodology that was developed using both externally-purchased and internally developed models. This methodology is reviewed regularly. More details can be shared upon request. There is no guarantee that the same rating(s) would be assigned to portfolio asset(s) if they were independently rated by a major credit ratings organization.
Unless otherwise stated, all figures and estimates provided have been sourced internally and are as of December 31, 2019. Unless otherwise noted, all references to "$" are in U.S. dollars.
Nothing in this document should (i) be construed to cause any of the operations under SLC Management to be an investment advisory fiduciary under the U.S. Employee Retirement Income Security Act of 1974, as amended, the U.S. Internal Revenue Code of 1986, as amended, or similar law, (ii) be considered individualized investment advice to plan assets based on the particular needs of a plan or (iii) serve as a primary basis for investment decisions with respect to plan assets.
This document may present materials or statements which reflect expectations or forecasts of future events. Such forward-looking statements are speculative in nature and may be subject to risks, uncertainties and assumptions and actual results which could differ significantly from the statements.
As such, do not place undue reliance upon such forward-looking statements. All opinions and commentary are subject to change without notice and are provided in good faith without legal responsibility. Past performance is not a guarantee of future results. Unless otherwise stated, all figures and estimates provided have been sourced internally and are current as at the date of the presentation unless separately stated. All data is subject to change.
No part of this material may, without SLC Management's prior written consent, be (i) copied, photocopied or duplicated in any form, by any means, or (ii) distributed to any person that is not an employee, officer, director, or authorized agent of the recipient.
© 2020, SLC Management